Our Services
---
Our goal is to try and make your visit as painless and comfortable as possible. Nitrous oxide gas or oral sedation may be offered if needed.
---
Exams:
Part of our exams include taking xrays or radiographs. The xrays only tell part of the story (the xrays are 2-D representations of teeth which have 3 dimensions). During the exam we check for oral cancer, TMJ abnormalities, decay, failing or leaking restorations, gum problems, wear on the teeth. These findings help us form a treatment plan catered to your individual needs. Of course the best dental care is preventative dental care especially when minor issues can be addressed before becoming bigger (more costly) issues.

---
Oral Cancer Screenings
:
Even though we do a visual test for oral cancer screenings as part of our exam we also offer
Vizilite®
which can help detect abnormal cells which may be precancer or cancerous cells. Because of how important it is many insurance companies are now covering it as a benefit.
---
Dental Cleanings:
We generally recommend a professional dental cleaning either every 3-4-6 months depending on the amount of buildup/stain accumulation and depending on whether there is a history of periodontal treatments (also known as deep cleanings or scaling and root therapy). It is important to also bring in nightguards or removable retainers during this appointment so we can evaluate it and also clean them professionally for you.
---
Periodontal (Gum) Treatments aka Deep Cleanings:
Patients with active periodontal disease have an infection. This infection if left untreated can progress and begin to affect the bone and surrounding gum tissue supporting the teeth which can lead to loose teeth and even tooth loss. Unfortunately periodontal disease is not curable but it is treatable with scaling and root therapy (also known as deep cleanings) and proper home care. Generally patients are seen every 3-4 months after scaling root therapy for their cleanings.

---
Restorative and Cosmetic Dentistry (fillings, bondings, veneers, whitening).
Often times major reconstructive dental work is viewed as cosmetic when many times it is done to restore functionality. For instance if someone has severe wear on all their teeth from years of grinding the only means to restore the teeth are by crowning or capping entire arches. This would improve the persons overall appearance cosmetically but more importantly it would improve their overall oral function.


Examples of fillings/bondings before and after:
---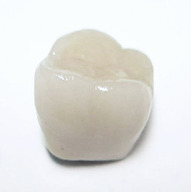 Crown and Bridge:


Here is a single cap or crown.
Crowns or caps provide full coverage to individual teeth and are often used to protect remaining tooth structure. Depending on personal esthetics and amount of space present crowns can be made of all metal, porcelain fused to metal (metal on the inside) and all porcelain.
---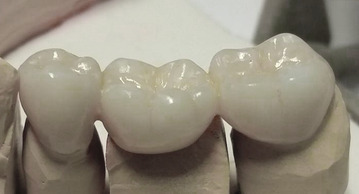 Here is a bridge with 3 teeth. Bridges are crowns connected to one another often used to replace missing teeth.

The middle tooth is a fake tooth. The teeth on either side give support to the fake tooth. A bridge can span several teeth depending on the number and condition of support teeth present. However, a bridge relies on healthy teeth and sometimes healthy teeth have to be capped to become a support tooth for the bridge. Also if you get decay or one of the support teeth becomes compromised it affects the entire bridge.
---
---
Dentures and Partials:
Dentures and partials are removable appliances used as a means of replacing missing teeth.
While complete dentures generally replace all the teeth in an arch, partials only replace some teeth and rely on teeth present as anchors to help give it support. However, all dentures even partials will have some movement.
Over time denture teeth will wear. Also the bone and gum resting under the "pink" plastic will shrink causing dentures to move even more. The majority of this shrinkage happens 6 mos to 1 year after extractions shrinkage can also happen with weight changes (since we tend to lose weight throughout the body not just in 1 area),
It is recommended that even denture patients see their dentist once a year for an exam where we can check your gums and do an oral cancer screening and professionally clean your dentures. .
---
Implants:

Implants are versatile and can be used to replace individual teeth, several missing teeth and full arches of missing teeth. Implants can also replace single missing teeth as an implant crown or several missing teeth as an implant bridge.

Implant Crown replacing 1 tooth:
| | | |
| --- | --- | --- |
| Implants are artificial roots surgically placed in the jaw bone to give support to crowns, bridges, dentures, partials. Depending on the quality of the the bone implants can sometimes be placed immediately after a tooth is removed; otherwise, the area is allowed to heal for future implant placement. | Abutments connect to the implants. Abutments support the crown or bridge. | Crowns are then cemented in place sometimes they can be screwed in place with a white filling to cover the access hole. Generally these types of restorations are non removable. |
Implant Bridge replacing 3 teeth:
Removable Alternative: The alternative to permanently replacing several missing teeth using implants is having a removable implant supported partial denture. If there is not enough support on one side of the mouth for a partial denture an implant can be placed to serve as a anchor. Also if more teeth are lost in the future the implant can still be used to support an overdenture.
Hybrid replacing a full arch:

This is a hybrid denture-it is permanent teeth that are screwed in place but it can be removed by the dentist (for maintenance every few years or repairs). It replaces the teeth in an entire arch. It can be made with acrylic on metal or full on porcelain (where the only metal is where it screws into the implants).
| | |
| --- | --- |
| | Removable Alternative: The alternative to having a permanent set of teeth on implants to replace an entire arch is a removable set on teeth that are supported by implants called an overdenture. It is a complete denture that snaps in and out of place. It requires less amount of implants and is easier to maintain. It is only made with acrylic or acrylic on metal. The snap inserts do wear over time and need to be changed every so often depending on care and usage. |
---
Root Canal Treatment:
A tooth has three layers: The outer hard enamel layer, the inner softer dentin layer and the center which is the space where the nerve sits.
Root Canal Treatment or Endodontic treatment is needed when the nerve of the tooth has been compromised (either with decay or trauma). Generally the tell tale signs a root canal may be needed is: pain to percussion or biting, lingering pain to hot or cold, spontaneous pain like waking you up in the middle of the night. Sometimes the nerve can gradually die which can cause a tooth to turn gray or a tooth with a large filling or crown to suddenly become painful.
If a patient is symptomatic antibiotics are sometimes prescribed before treatment begins.
A small opening is made on top or on back of the tooth to gain access to the canals. The canals are then cleaned with irrigation fluids and shaped with instruments then sealed. Because root canaled teeth can become brittle over time, a final crown is then placed to restore and protect the tooth.
---
Extractions:
Sometimes a tooth is not restorable and requires an extraction.
If there are significant health issues or if certain blood thinners are being taken a medical clearance may be required before proceeding. Patients requiring sedation or who have impacted and semi impacted teeth are referred to the oral surgeon.
Generally the most discomfort after an extraction is immediately after the anesthetic wears off thru the next day. It is important to follow all the post surgical directions given and to take all medications as directed. In the event the discomfort increases instead of subsiding we ask that you please call the office.
---
7410 Boynton Beach Blvd, Suite B-3, Boynton Beach, Florida 33437
Phone: 561-734-7171